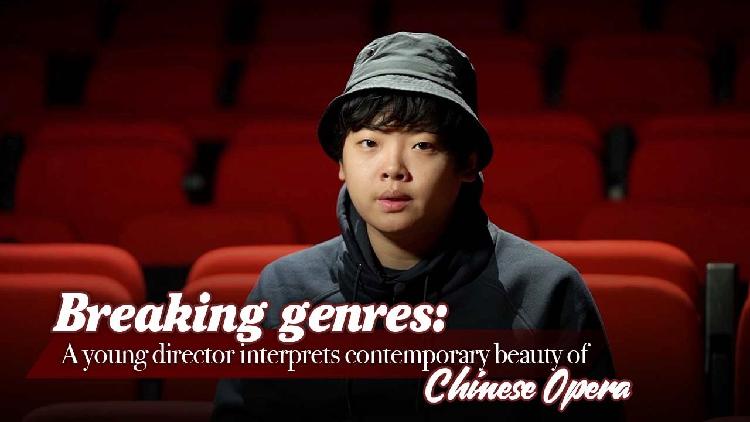 A theater director interprets the contemporary beauty of Chinese opera
An hour before the premiere of his new play, "The New Romance of the West Room," Ding Yiteng sat in the empty theater of the West Drum Tower in Beijing. The show is the culmination of countless hours of work by the burgeoning theater director, bringing his unique vision, shaped by life's experiences, to the stage.
"I understand the Western perspective of art and aesthetics. But I love Beijing and Chinese culture," Ding said. "So why can't I be the one to integrate different cultures?"
A child, a man, an artist
Ding received his early education in the United States where his mother was doing her medical research in Philadelphia.
"I barely knew the alphabet," he recalls. "My mother could have put me in a Chinese language school, but she chose to put me in a normal school with American children, which caused tremendous and unprecedented trauma of not being able to understand people. Eventually, I played football, listened to hip-hop and played video games with my classmates."
When he and his mother returned to China after sixth grade, Ding said not being accepted by children from his own culture felt like a "second trauma".
Difficulties shaped Ding's ability to communicate with others, and loneliness sparked his desire to express himself. In college, he starred in "Beauty and the Beast" and found a home on stage.
"I suddenly found my place expressing myself on stage, bathed in the warmth of the spotlight," he said.
Before the show, Ding brings lamb skewers to his team. /CGTN
Before the show, Ding brings lamb skewers to his team. /CGTN
In college, Ding was addicted to acting and has devoted himself to the stage ever since.
His hard work paid off, as he played major roles with the Meng Jinghui theater studio and became the only Asian actor in the international theater group The Bridge of Winds in Denmark.
He was nominated for "Most Prominent Young Chinese Theater Artist" in 2015 and 2016 and won the "New Prominent Chinese Director" award in 2018 with "Injustice to Tou'O".
Inspired by his parents, whom he calls his inspiration, he never stopped pursuing new academic heights, earning a Master of Arts in Performance Making from Goldsmiths, University of London, and a PhD in Directing from the Central Academy of Drama in Beijing in 2021. .
His deep love for Chinese opera germinated while performing as a guest actor with the Odin Teatret theater troupe in Denmark in 2015. A photo of Peking opera performer Mei Lanfang on the wall of the Danish theater company filled him with a sense of pride.
"I felt this urgent need for Chinese culture and its greatness," Ding said. After his time in theatre, Ding devoted himself to studying Chinese dramas and reinterpreting traditional plays, such as "The Injustice to Tou'O" and "Hall of Eternal Life".
Understanding life through theater
"Theater is my lover. We are so close, so intimate," Ding said in a 2018 interview with American theater scholar Lissa Tyler Renaud, director of the Wuzhen Theater Festival. "The loneliness of being an only child, the feeling of insecurity in a rapidly changing society – these are common phenomena for my entire generation."
Born in 1991, members of Ding's generation connect to theater based on their individual tastes and preferences, not necessarily through heavy topics like war or politics. However, theater can be socially influential and meaningful, Ding said.
An image from Ding Yiteng's play "The New Romance of West Chamber".
An image from Ding Yiteng's play "The New Romance of West Chamber".
In "The New Romance Of The West Chamber", Ding wanted to reflect on the theme of love by rewriting history to give each character a modern identity.
The main female character, Ruoying, is a rich and beautiful woman from a large family, and her lover, Zhang Tong, is a young man from a small town trying to establish himself in the big city.
Ding's play poses a question to the spectators: can the couple free themselves from the constraints of society?
"The script has been revised over ten times," Ding said.
The maid's name in the original "Hong Niang" has become synonymous with actual matchmakers. Twinning bridges the gap between "love marriage" and "destiny marriage", where individual choice is the primary distinction. Ding's play leaves open the question of whether the couple will break with the realities of modern society.
A key character, Ruo Hong, in "The New Romance of West Chamber". /CGTN
A key character, Ruo Hong, in "The New Romance of West Chamber". /CGTN
When a young audience member cried after watching the show, Ding knew that her tears weren't just about the characters, but that their struggles resonated with difficulties in her own life.
"No matter the era, there are barriers to love. How we overcome these barriers, such as social identity and perspective, are issues our generation must consider. It's not easy to love. We must embrace hope and face it with courage," Ding mentioned.
On a personal note, Ding uses theater as a medium to express his own emotions and experiences, such as understanding his father's death, which influenced his work in "The Injustice of Tuo'O."
"It snowed a lot when he died. I didn't understand death very well at that time," Ding said.
"But when I looked at the sky, all of a sudden I understood the connection between the sky and the human, which was woven into the story of Tuo'O."
When modern drama meets Chinese opera
Known as China's most popular romance comedy, "Romance of the West Chamber" depicts a secret romance between two young people from different social classes. Ding's adaptation brings the Yuan Dynasty play into the modern age with new acting methods and storylines, and incorporating modern technology.
Modern theater uses dialogue, body movement, and stage design to create a real sense of story, while traditional Chinese opera uses song, dance, and instrumental performance.
"The Modern Format", a new method of performance and theatrical expression created by Ding, combines traditional Chinese cultural elements – such as famous ancient stories and Chinese opera – and staging with performance techniques contemporary for Chinese and international audiences.
Another photo from "The New Romance of West Chamber". /CGTN
Another photo from "The New Romance of West Chamber". /CGTN
For example, in "The New Romance of West Chamber", Ding uses operatic singing, a technique adopted from the original piece.
"As a director, I have to take inspiration from the traditional script, but also keep a contemporary perspective and aesthetic style," Ding said.
Modern elements, such as multimedia videos, electronic music and modern stage art are used in the play. The original story's male protagonist, Zhang Sheng, was portrayed by an actress. This carryover from Kun Opera, one of the oldest forms of Chinese opera, also appears in Ding's adaptation, with the two main characters being played by women.
While the modern theater market has grown from a $250 million industry in 2013 to a $410 million industry in 2018, dominated by younger audiences, the Chinese opera market is lagging behind.
Chinese Opera's annual box office receipts fell 10.5% to $1.25 million between 2017 and 2018.
Up-and-coming directors like Ding, who find captivating ways to merge the old and the new, may be what the industry needs to thrive.
(Text by Sun Siyi; video edited by Sun Siyi; Matthew Arrington also contributed to the story.)
Cover image designer: Li Wenyi Vinnie
Editor-in-Chief: Lin Dongwei
Producers: Li Tianfu, Zhu Danni
Executive producer: Wen Yaru
Supervisor: Zhang Shilei