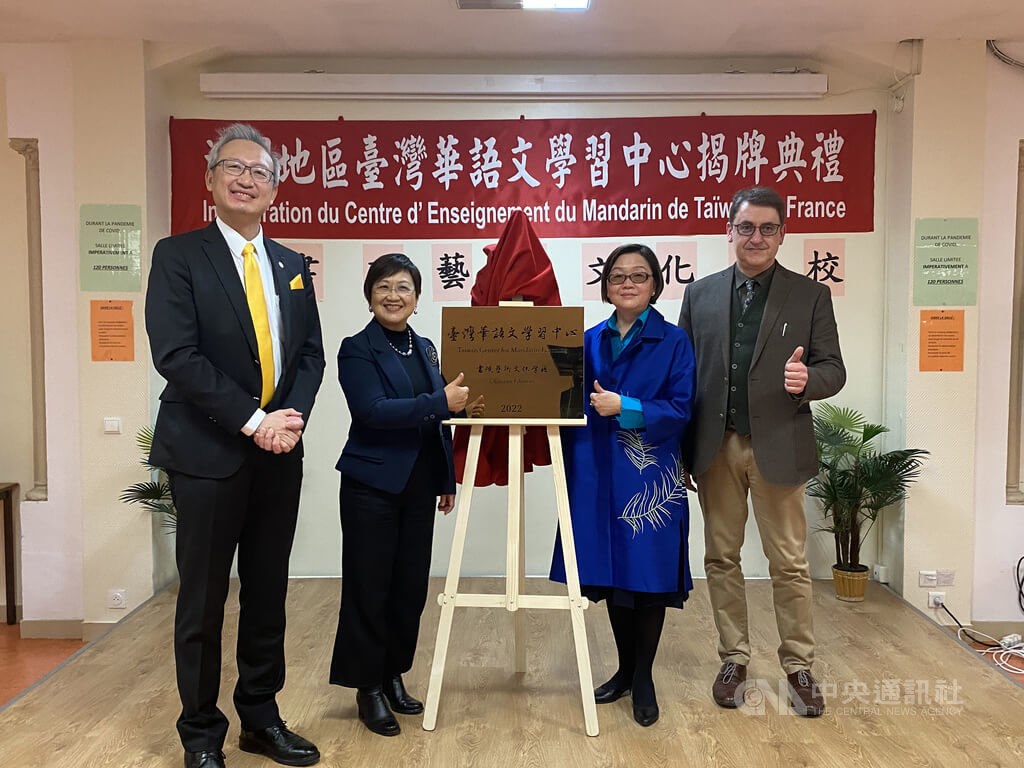 Inauguration of the second Taiwanese Mandarin learning center in France
Paris, April 10 (CNA) France's second Taiwan Mandarin Learning Center (TCML) opened in Paris on Saturday and will focus on promoting the learning of Taiwanese-style Mandarin and Taiwanese culture in the European country.
The new center was inaugurated at L'Encrier Chinois located in the 13th arrondissement of Paris, the Chinese language school in the district since 2005.
Taiwan's senior envoy to Paris Wu Chih-chung (吳志中) and Vice Minister of Taiwan's Overseas Community Affairs Council (OCAC) Hsu Chia-ching (徐佳青) both attended the the opening ceremony.
Hsu, who is making the first overseas trip by a senior OCAC official to Europe in two years, told CNA that the center, founded by the Taiwanese government, not only offers Mandarin Chinese lessons, but also serves as a platform for French people to learn more about Taiwanese. culture, democracy and freedom.
Hsu left Taipei on March 31 and is visiting Germany, Belgium, France, Ireland, England, Austria and Hungary until April 20.
L'Encrier Chinois Lin Shu-ling (林淑琳) and her husband Jean-Francois Panis told CNA that they founded the school in 2005 with just 22 students.
Prior to the outbreak of the COVID-19 pandemic, their school had been attended by no less than 380 students.
Unlike the simplified Chinese taught in China, Lin said their school teaches students using the traditional Chinese characters used in Taiwan.
More and more students are starting to study at their school because they want to learn traditional Chinese characters, Lin said.
OCAC began opening TCMLs in September 2021.
To date, 45 TCMLs have been established worldwide, including 35 in the United States, two in the United Kingdom, France, Germany and one in Austria, Ireland, Sweden and Hungary, according to OCAC.
Through Mandarin lessons and cultural activities, the centers seek to foster cultural exchanges, popularize Mandarin learning and deepen relations between Taiwan and the general public in their host countries, said the OCAC.
The first TSML in France opened its doors at the Chinese Linguistic and Cultural Association (ALCC) located in the town of Noisy-le-Grand in September 2021.