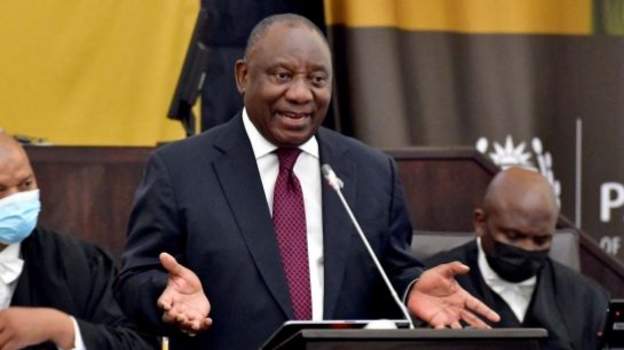 Laugh after South African president swears in parliament
President Ramaphosa has agreed that his use of the word should be removed from the parliamentary record
In an unexpected but not unprecedented moment in the South African parliament, President Cyril Ramaphosa used a rude Afrikaans expletive in the chamber.
It happened during a question-and-answer session of nearly three hours with MPs in Cape Town.
Various issues were discussed, such as the economic impact of Russia's invasion of Ukraine – but it was a question on Zoom from Julius Malema, leader of the opposition Economic Freedom Fighters (EFF), that sparked the expletive.
He had referred to the police force – which came under fire for high crime rates and their handling of deadly riots last year following the arrest of President Jacob Zuma.
He wanted to know if the president was afraid of police minister Bheki Cele – and if that was why another minister had not been appointed to lead the force.
Mr. Ramaphosa replied: "Honourable Malema, I heard what you said, but I am afraid [Afrikaans swear word meaning 'nothing']."
South Africa has 11 official languages ​​and the majority of citizens are multilingual, mixing expressions from one language to another.
The president's use of the word was mostly met with laughter and applause. This did not cause massive outrage, but it was widely covered in the press.
On social media, citizens reacted with mixed feelings of humor and disappointment at their leader's behavior.
The South African parliament has seen many insults thrown between MPs and even fights over the years.
However, MP Nqabayomzi Kwankwa, chief whip of the opposition United Democratic Movement party, challenged the president, saying "it would be a sad day" if the word "entered the lexicon" of parliament.
Mr Ramaphosa agreed and, between laughs, suggested that the word "niks" – another Afrikaans term for "nothing", but not offensive – should instead be used in the official record.