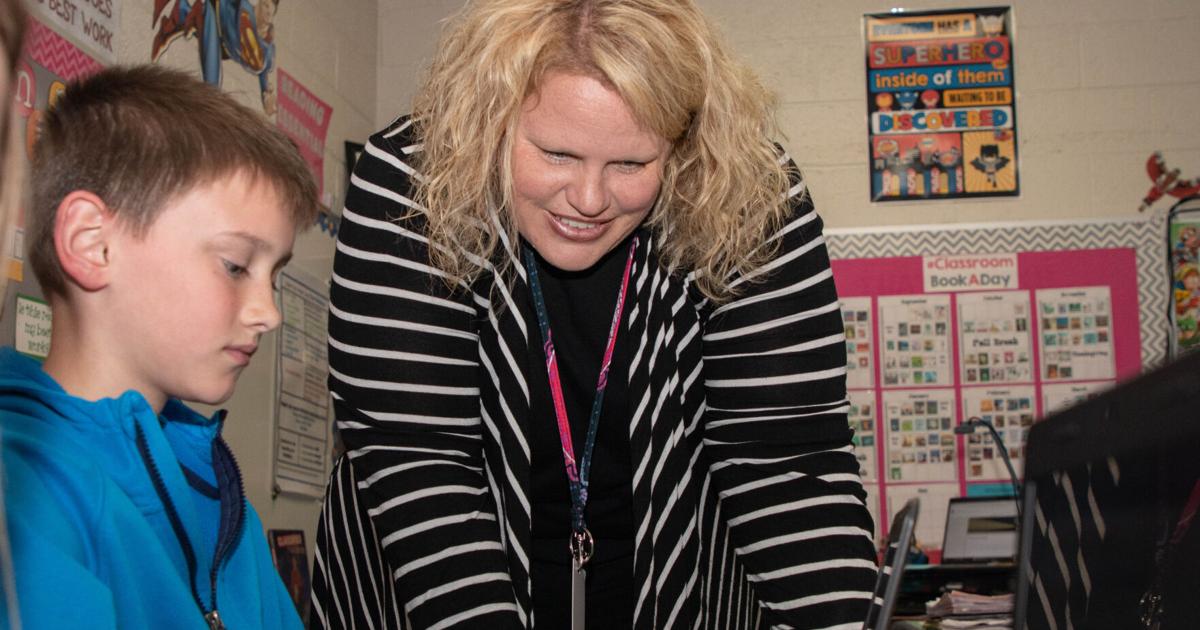 Mandy Peterson: Student became a Cherokee elementary school teacher | News
Fourth-grade language arts teacher Mandy Peterson loves Cherokee Elementary.
It was there that she attended elementary school as a student, served as a teaching assistant, and taught for eight of her 16 years as an instructor. She will soon defend her thesis at Milligan University.
The Johnson City Press recently asked her several questions about her work and the challenges of teaching during the pandemic.
When did you realize you wanted to become a teacher?
I think I always knew I wanted to be a teacher. When I was a student in Cherokee, I loved coming to school every day.
As I considered another avenue for a while after graduating from college, I knew it was ultimately my calling because nothing else was up to snuff and brought me the joy of working with students.
What is the best part of your job?
The best parts of my job are the relationships I've built with students, families, and colleagues. The support I receive from my parents and my colleagues allows me to face the challenges that arise.
A close second is watching the excitement grow in my students throughout the year. I love when they connect with a book we are reading and beg to read more or improve in a specific area that has been a challenge for them.
Just recently, I was talking with a colleague about how my students' writing skills improved this year. I love seeing that excitement when they feel confident in themselves or make a connection with something I taught them.
Sounds like you have a strong connection to Cherokee Elementary School. Did that play a role in your decision to teach there now?
As I mentioned earlier, I loved attending Cherokee. In fact, one of my closest friends is a teacher I had at school here. I used to come visit Dianne Cantrell when I came home and saw her car here after hours.
She is and always has been a huge influence on me, and I try to emulate a lot of the things I loved about her in the classroom. She still volunteers to help me in my class and I was lucky enough to be her teaching partner for a few years before she retired. I am also still in contact with many of my other teachers.
As I spent eight years teaching sixth grade at Indian Trail, I knew I would eventually love to come back and teach at Cherokee.
What has been the most important lesson that educators have learned over the past two years?
I think the most important lesson we've learned over the past two years is the importance of relationships and social and emotional learning.
While teaching practically last year allowed me to see how students were able to continue to learn and succeed at home, I also know that many of them were very excited when we were able to come together in person for certain days and events or to have meetings. for online interactions that were not academically focused.
While I was grateful for the opportunity we had to meet virtually, I looked forward to being back in class with my students, and I know many of them missed the daily interactions with each other. others.
After two years of teaching during a pandemic, how optimistic are you about the future?
I am optimistic that as teachers we have learned to become more intentional with our lessons and practices to get the most out of each lesson and activity and to include opportunities for students to build relationships.
We know it is important to make the most of the time we spend with each other as students are away for various periods due to illness or quarantine.
I am hopeful that as things continue to move towards a more "normal" way of life in the classroom, we will remember the importance of these things and continue to integrate social learning opportunities. emotional in our lessons.