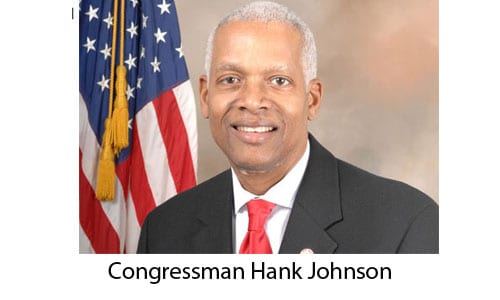 Representative Hank Johnson calls for $ 5 million to fund community projects in Georgia's Fourth District – On Common Ground News
[ad_1]
Decatur, Clarkston, Tucker Covington and Oxford projects on funding list
WASHINGTON, DC — Congressman Hank Johnson (GA-04) announced he has secured $ 4,929,000 for eight community-funded projects in the 2022 Department of Labor (DOL), Health and Human Services (LHHS) and the Department of Transportation, and Housing and Urban Development Credit Laws (THUD).
The inclusion of funding in the Appropriations Committee bill is the first step in the funding process. Johnson has said he will continue to fight for that funding as the bill goes through the Appropriations Committee, House review and Senate negotiations.
Johnson is making projects a top priority after speaking with Fourth District leaders and reviewing eligible submissions for community project funding to the Credit Committee.
$ 800,000 to improve the sidewalks of Flat Shoals Parkway in Tucker and Decatur
$ 600,000 Complete Street Improvement Project in the Town of Decatur
$ 1,000,000 for the development of a transportation training center at Georgia Piedmont Technical College
$ 900,000 Corridor and Connection Initiative in Oxford
$ 800,000 Multi-Use Trail in Covington
$ 209,000 Affordable Housing and Studio Complex in the City of Decatur
$ 320,000 for the Town of Clarkston's READY School initiative
$ 300,000 for MedCura Health's Mental Health Workforce Development Initiative.
Additional details on the projects can be found here. Information on the status of additional requests will be announced in the coming days.
"These projects are critical investments for Georgia's Fourth District," said Johnson, a senior member of the House Transportation and Infrastructure Committee.
"These are investments in health care, education. infrastructure and our overall quality of life. Most of the time, these are investments in people. Anyone who says government is not working for the people should feel confident in this process as we move forward. It doesn't matter where you live or how much you earn; we all benefit together.
One of the funded projects, Clarkston's READY Schools initiative, will aim to create equitable access to early learning programs in refugee and immigrant communities.
"I am very excited for this opportunity to expand the incredible READY School program to four communities in DeKalb County, in partnership with CDF Action and with the support of Congressman Hank Johnson's office," said County Commissioner from DeKalb, Ted Terry, who represents the Clarkston region on the DeKalb County Board of Commissioners as Super District 6 commissioner. "Study after study shows that investing in early learning pays huge dividends in the community. in the broad sense by improving school performance, increasing the socialization of our young people and promoting career development and advancement for a workforce composed mainly of women. "
This free, multilingual, part-time early learning and family engagement program, located in apartment communities, provides a safe, welcoming and nurturing environment, laying the foundation for future success, Johnson said.
Funding provided for MedCura Health's Mental Workforce Development Program will strengthen community mental health services that are so essential during the ongoing COVID-19 pandemic, where so many have lost so much. This investment will increase the number of professionals who can support and strengthen our community in the aftermath of this crisis, with a focus on mental wellness.
"Our community is in desperate need of additional mental health services with the growing homeless population and the terrible impact Covid-19 has had on both mental health and economic stability," said Jeff Taylor, CEO from MedCura Health. "We are currently struggling to meet demand and it has been difficult to hire psychiatrists. This funding would mean that we can increase services by 200% and expand services from one site to five sites.

Publication displays:
2
[ad_2]