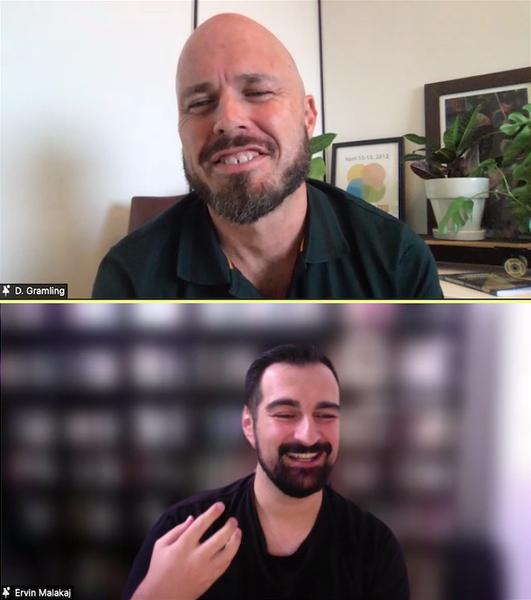 The invention of multilingualism looks to the future
[ad_1]
"What repertoires of meaning, knowledge and philosophical insights, spirituality, connection with our ancestors, will we need in [the coming] years. What preparations do we need to make now? And will English be enough? asked Dr David Gramling, head of department at UBC. Central, Eastern and Northern European Studies (IT'S NOT).
On Tuesday August 17th, Gramling gathered friends, family, colleagues and language academics on Zoom for the launch of their book The invention of multilingualism (Cambridge University Press, 2021).
Last year, CENES hosted an online conference series, inviting academics from around the world to present their studies and research to the UBC CENES community. "This year," said Dr Gramling, "we want to focus a bit on our own work. In this department of teachers […] expertise and experience go back decades. He said he hoped that in their lecture series this year, we can hear from all the teachers, instructors, researchers in languages, literature and culture who work in this department.
Hosted and moderated by Ervin Malakaj, the book launch consisted of questions for Dr. Gramling about the writing and research process, with an additional Q&A at the end, encouraging people to stay engaged.
"I think one of the exciting things about it is that no one can be an expert. In a setting like [the book launch] you really feel what it is like not being able to be the expert you want to be, "said Dr Gramling, reflecting on the event.
Gramling's book explores multilingualism across the world and its presence and importance in the future. It focuses on multilingualism in everyday life, academics, politics, post-colonial movements, capitalist society and much more. It also ends with an alternative to the Common European Framework of Reference (CEFR). "It's just a different way for people to design their own language learning. It was just a fun part of the book that I really enjoyed putting together, "Dr Gramling said of the end of the book.
When asked what they think UBC students – whether in the CENES department or otherwise – can learn from this book and their research, Gramling replied that "we all have to accept the challenge. of what it means to live in a multilingual world in a volatile time where there are a number of really urgent questions to be asked.
He said he wanted students "to have a real chance to answer certain questions about what they think is necessary to be an effective and connected citizen of an endangered planet."
Find future CENES events, like this one, on cenes.ubc.ca.
[ad_2]