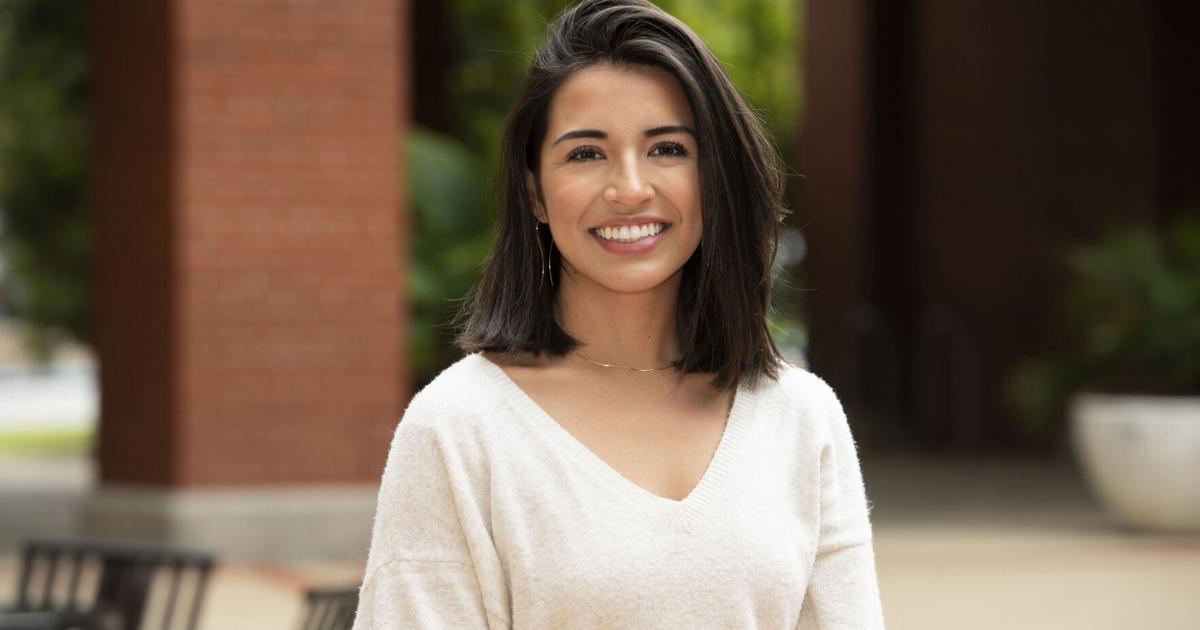 The mother tongue of Spanish is the key to relationships, opportunities for ETSU seniors |
[ad_1]
JOHNSON CITY РLanguage is what binds everything and everyone together for Pamela Avenda̱o-Rubi, whose native Spanish language was the key to relationships and opportunities throughout her time at East Tennessee State University.
"I was born and raised in Mexico, and it wasn't until maybe seven or eight years that I first learned English. It was the most important thing ever, "said the pre-med student. "So I sympathize with a lot of people for whom English is a second language, even the teachers here who have English as a second language and have difficulty expressing themselves. I am able to connect with them in a way that many other students cannot. "
When she saw the number of Hispanics in the Appalachian Highlands who didn't speak English, Avendaño-Rubi found ways to help fill the need for interpreters in the region.
"That in itself – the language – is what matters most to me," she said.
The native of Puebla, Mexico moved to Chattanooga with her parents and sister following her father's work in international relations for Volkswagen.
"I'm from a very, very, very big city in Mexico – almost comparable to New York or Mexico City – so moving from there to Tennessee was a bit shocking," she said.
"We used to travel a lot, but this was our first international move. It was just our nuclear family, starting in a new place. And then I decided to enter the ETSU.
"Never in a million years, if you had asked me when I was 10 where I would be now, I would never have told you ETSU."
When she visited the campus, Avendaño-Rubi was very impressed with the people at the university.
"There was the 'southern charm', but it goes beyond that," she said. "It gets to the point where I asked Heather Levesque (Undergraduate Admissions Director) a question about something pre-med related, and although she didn't know the answer, she still got me. taken personally to go see another person, and to another person until we found the right person, able to give me the answers I needed. And no other university has done that, and it spoke to me more than a beautiful campus or a great school name.
"It was the personal connection that ETSU gave that brought me to ETSU," she said.
As a first year pre-med student, Avendaño-Rubi assisted a medical clinic in a remote area, where she noticed a patient who did not speak English.
"I got up and said, 'Hey, I know Spanish and I'm going to help you,'" she said. "I was the only woman at the RAM clinic who could communicate in Spanish. "
Because a female interpreter was needed, especially in the area of ​​women's health, she was asked to return and since then she has helped with ETSU RAM clinics.
Avendaño-Rubi's efforts caught the attention of Dr Felipe Fiuza, director of the Linguistic and Cultural Resource Center (LCRC) at ETSU, and he offered him a job at LCRC, translating for patients in clinical settings. , translating documents, helping with health clinics and Suite.
Avendaño-Rubi and Fiuza found their skills especially needed when the region, along with the world, found itself in the midst of a pandemic.
"In 2020, when we first entered COVID pandemic mode, interpreters were not allowed to enter the hospital, which was a problem because a lot of people could not communicate," he said. she declared.
"So Dr Fiuza and I took calls and interpreted remotely during the pandemic for doctors at ETSU. It was wonderful to have this experience of Dr. Fiuza and that he was able to help me with that. And I was also able to help so many people, even though I was not there.
Avendaño-Rubi, who also speaks French and German, finds that his passion for languages ​​is linked to his love of culture.
"Meeting people from France and speaking to them in their own language kind of opens up a new door to connect with someone else," she said. "Being able to express myself in English opens the doors to American culture, British culture and all the rest. And Spanish – it's not just Mexico, it's the entire South American continent.
"German culture is very different from American culture, from Spanish culture, from French culture. Languages ​​in general connect everyone, even if you don't know them well. I know a lot of people who are not fluent in English but are always willing to give it a try. The willingness to be open to other cultures, I think, is the beauty of languages. Languages ​​are the bridge between everything, between people.
Avendaño-Rubi is a biology major with a focus on biochemistry and a minor in physics, and she holds a diversity scholarship through the ETSU Multicultural Center. In addition, she is the Vice President of Membership Development for the Alpha Delta Pi Sorority.
After graduating in May 2022, Avendaño-Rubi plans to take a year off to spend time with his family, as his father plans to retire in the next two years, and explore all of his options for faculty. of Medicine.
She also accepted a research opportunity in Germany.
"Wherever I choose to go, I don't just want to get a medical degree. I want to do an MD / Ph.D. So that's double the time, it's double the work, and that's a lot to consider for a 21 year old, finding a city I'm going to go to for the next seven years of my life when really, I don't even know where I'll be next year. So I think I just need a year to get back home to Mexico, see my family, kind of reconnect with my roots, and then be ready to start my life in the US and move to. the city I choose. It took a lot of thought and meditation to come to this decision, and I think it was probably the most difficult decision in my college career, but it was necessary.
Besides walking and reading, Avendaño-Rubi especially enjoys spending time with his friends.
"It's the little moments that add up and make it memorable, like going to see the sunrise at Roan Mountain and watch the sunset from Buffalo Mountain with a pizza from Cootie Brown's. It's my perfect way to relax in the afternoon.
[ad_2]