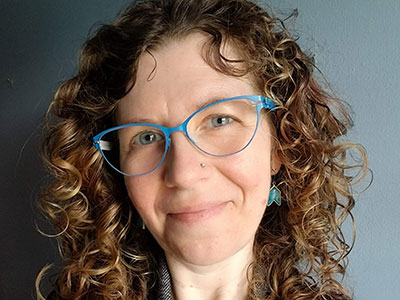 Professor leading the first national survey of Deaf women's reproductive health experiences
As limits to women's reproductive rights swirl in the national news, a Syracuse University researcher is engaged in a groundbreaking national study of the reproductive health experiences of Deaf and hard of hearing women. Corrine Occhino, assistant professor in the Department of Languages, Literatures, and Linguistics at the College of Arts and Sciences (A&S), with a dual appointment in the School of Education, is working to determine the barriers Deaf women face in receiving services appropriate reproductive health and health information.
"We know from previous research that deaf people have many additional barriers to accessing health care that hearing people don't," says Occhino, who is director of the Multimodal Language Lab at A&S and program coordinator for American Sign Language and Deaf Studies. program at the School of Education. "Our goal is to identify issues so we can improve healthcare communication for people who are deaf and hard of hearing."
Occhino joined Syracuse University in the fall of 2021. She previously led the Multimodal Language Lab at the Center for Culture and Language at the Rochester Institute of Technology, where she engaged in research with colleague Tiffany Panko , director of the school's Deaf Health Lab.
Occhino and Panko received funding from the Society of Family Planning to conduct a national survey to gather information about the pregnancy experiences and reproductive health care utilization of women who are deaf or hard of hearing. Through the survey and interviews, researchers will identify emerging themes and patterns of experience among Deaf and hard of hearing women, as well as their knowledge and opinions about reproductive health.
Occhino says people who are deaf and hard of hearing typically communicate with their healthcare providers through an interpreter using American Sign Language (ASL), through speech and hearing aids, or through writing. A trend that emerged early in the research is the disparity of deaf and hard of hearing people who do not receive their first choice of birth control from their health care provider.
"Among hearing people, the top reason for not getting their preferred birth control was lack of insurance coverage or high cost," says Occhino. "But among deaf and hard of hearing people, they often didn't know why they didn't get their first choice. It's a very small piece of the puzzle, but we think it shows how specific communication about details often falls through the cracks with deaf and hard of hearing women, because they don't always have the same access to individual interviews. -a conversation with their doctors or getting the kind of explanations you might get as a hearing person when going to the OB/GYN.
It has repercussions, she says. A 2020 study found that women who are deaf and hard of hearing are 67% more likely to inadvertently become pregnant. While part of the survey focuses on unplanned pregnancies and abortion, Occhino says respondents were reluctant to share this information. "A lot of people aren't comfortable talking about those experiences, especially in the current climate where it's become very politicized," she says.
Occhino and Panko are currently analyzing their data with the intention of writing and presenting the results this fall at the annual meeting of the American Public Health Association. "We hope our findings will lead to the development of culturally and linguistically appropriate educational interventions for healthcare providers and promote access to information and effective use of the reproductive health system," Occhino says.
Occhino is also engaged in a separate project to develop resources for deaf refugees in the Syracuse area to learn ASL and English. Through a mini-grant from the Engaged Humanities Network, Occhino is working with a local non-profit organization, Deaf New Americans Advocacy Inc., to identify and provide services to the Deaf New American community both for teaching ASL and English. "We are working on creating a bilingual literacy program," she says.