The Presidio of Monterey Job Readiness Program Offers Tutoring and One-on-One Assistance | Article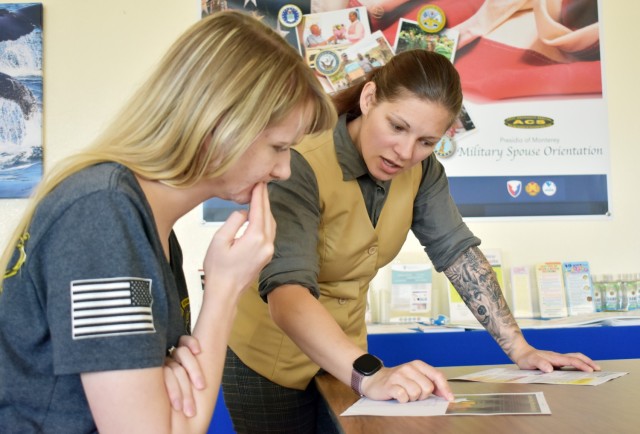 PRESIDIO OF MONTEREY, Calif. (April 28, 2022) – The Presidio of Monterey's Employment Readiness Program can not only help job seekers prepare for interviews, but can also help with job search, resume, job training, education and volunteer opportunities.
Katilynn Snow, job readiness manager, said she offers monthly courses on interviewing and resume writing, and is happy to meet people one-on-one on all topics.
"Job Success and Interviewing Skills" is held every second Thursday of the month at 9:30 a.m. and "Resume Building" every third Thursday of the month at 10:00 a.m. in the Army Community Service Golden Room. Both classes prepare job seekers for the differences between the federal and private sectors, Snow said.
All members of the local military community are welcome to the program's services, including veterans, and the program can be especially helpful for military spouses trying to establish a career, Snow said.
"I think a lot of spouses feel they can't have a career because their spouse moves every three years," Snow said. "I want to show them that's not necessarily true."
In addition to helping with long-term career strategies, Snow also helps by attending local job fairs and sharing information about fair employers with job seekers.
PoM is a unique duty station, however, as many service members are students at the Defense Language Institute's foreign language center and may only stay at the facility for eight months, Snow said.
In this case, it may make more sense for spouses to take a longer-term view and focus on either learning new skills or finding a job in a future duty station, Snow said. .
For example, spouses can learn job skills through the My Spouse Education & Career Opportunities, or MySECO, program, Snow said, and be ready for a new career by the time they leave PoM.
"In eight months they can leave here and go to another state and be ready to work, whether it's medical billing, [physical therapy] services, midwifery services — all those types of things," Snow said.
Snow can also provide information on military spouse professional license reimbursement and provides resume writing services.
"I do a lot of resume writing," Snow said. "It's pretty amazing how people don't really know how to emphasize what they do in their work. "Oh, I was a cashier." … You've probably done a lot more than you think.
For those looking to start a home business, Snow also offers an information session on this topic. Additionally, Snow is planning a resume writing course for high school students and another course on career exploration.
Military spouse Taylor Marquez Valera took the Career Success and Interview Skills course on April 14 and found it helpful in preparing for her local job search. She arrived about a month ago and enrolled in the Job Readiness Program shortly after her arrival.
"I thought it was really good," Marquez Valera said of the class. "I received a lot of good information that I hadn't thought of before, so I'm glad I came."
Marquez Valera said she plans to get help with her resume and may also try doing a mock interview with Snow.
For more information, contact Snow at [email protected] or (831) 242-7659. Visit the program's Facebook page at "Presidio of Monterey Employment Readiness".