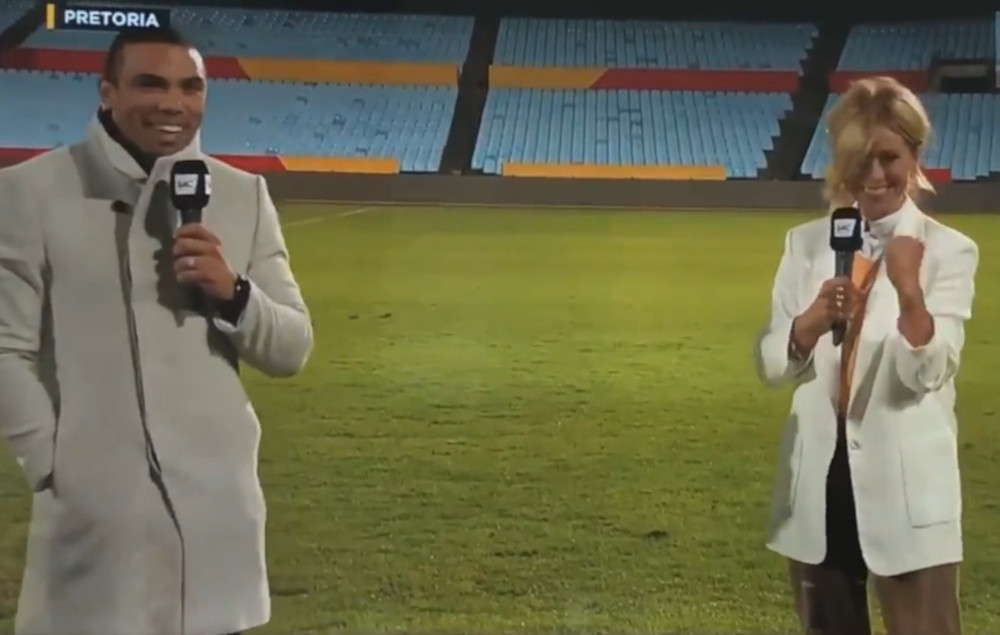 Lions presenter praised after responding to Bryan Habana's Welsh skills by learning some Afrikaans
[ad_1]
// = do_shortcode ('[in-content-square]')?>
Presenter Sarra Elgan Easterby has been praised by fans online after responding to Springbok legend Bryan Habana's use of the Welsh language on their shows by mastering some Afrikaans.
Former South African World Cup winning wing Habana had appeared on S4C to offer her analysis of the Lions touring at top shows and used the Welsh language regularly in her appearances.
During his analysis of the performance of the Lions, Bryan Habana had commented that it was a "noswaith dda" (good evening), "gêm gyffrous heno" (an exciting match tonight), "mae'n oer yn Ellis Park "(it's cold in Ellis Park), and also answered a question in Welsh.
Her co-host, Sarra Elgan Easterby, said that after teaching Bryan Habana Welsh, she asked him to teach her some Afrikaans so she could use it when interviewing the coach of the Springboks, Jacques Nienaber.
"Been here six weeks and Bryan Habana taught me a little Afrikaans, so I tried it on Jacques! she said.
Jacques Nienaber has been called "scientific" for his approach to the game of the Springboks – will they find the winning formula today? ??

Here's what we had to say before #The decision maker…

Watch live on Sky Sports The Lions now: https://t.co/7ZAM29LhA1 pic.twitter.com/OM2NpbLnqM

– Sky Sports Rugby Union (@SkySportsRugby) August 7, 2021
During an interview on Sky Sports ahead of the Lions' third test, she asked Springbok's coach how he was feeling and told him the game was very exciting. Jacques Nienaber replied that his Afrikaans were "perfect".
His comments impressed his followers on social media, with an Afrikaans speaker telling him, "Your pronunciation was actually exceptional. I was impressed. Bay gote mevrou Sarra.
Another commented "mooi so" (well done).
Angharad Griffiths commented: "In an age when sports reporting lacks any intelligent background research outside of social media analysis; and media training of athletes is the norm; Sara Elgan's work on the Lions tour (and general rugby work) is a breath of fresh air.


[ad_2]