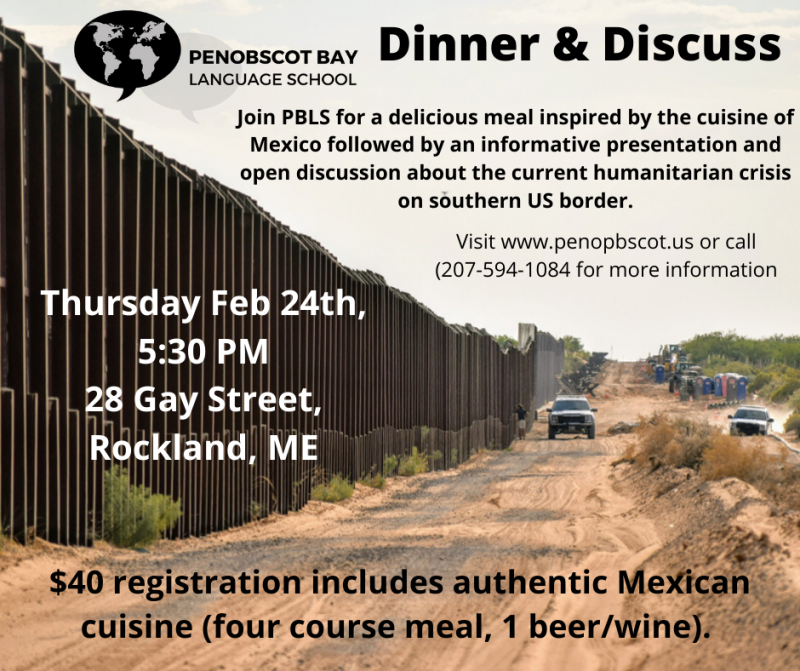 Penobscot Bay Language School's "Dinner and Talk" Series Heads to the Border
ROCKLAND – Penobscot Bay Language School is hosting its second Dinner & Discuss event of 2022 with an authentic meal inspired by Mexican cuisine, prepared by experienced culinary volunteers and staff.
The event will conclude with a lively discussion focused on the current humanitarian crisis on the US-Mexico border, including a presentation by recent Skidmore College graduate and dedicated humanitarian volunteer, Annie James, of Camden, who will recount the details of her recent volunteer trip with a non-profit organization serving immigrants and refugees at the US-Mexico border.
The dinner will be held Thursday, February 24 (doors open 5:30 p.m.), at 28 Gay Street, Rockland, ME 04841. Visit www.pebobscot.us (under the Cultural Events tab) to make reservations online, or call (207) 594-1084 for more information.
EVENT COVID POLICY: All attendees of the February 24 Dinner & Talk event at PBLS will be asked to present proof of vaccination (valid vaccination card, clear digital image or printout) and wear a mask when attending. are not sitting, eating and/or drinking. Symptomatic people are asked to stay home (regardless of their vaccination status). Space is limited to half capacity (20 guests) during the event to allow for greater social distancing between patrons.
"Thank you for helping us stay safe!" said PBLS, in a press release.
PBLS recently embarked on a journey to offer FREE English (ESL) lessons to "New Mainers".
"As we launch our program in September 2021, we are becoming increasingly aware of the push-pull factors driving global migration," PBLS said. "Climate change, devastated local economies, gang violence, foreign military intervention and so many other factors are causing people to make the difficult choice to leave their homes in search of a safe and prosperous future. Our interest in exploring the current crisis at the US-Mexico border is intended to help bring these conversations to light here at home in Maine, and to debunk many myths and misconceptions about what drives human migration around the world. .
Founded in 1986 as a non-profit language school and cultural exchange center, Penobscot Bay Language School has served over 6,000 locals and over 500 international students of all ages with language instruction and cultural programs. More than three decades later, we continue to promote our mission: to develop and provide opportunities for people in Midcoast Maine and around the world to explore our shared experience on Earth through the study and celebration of language and culture.