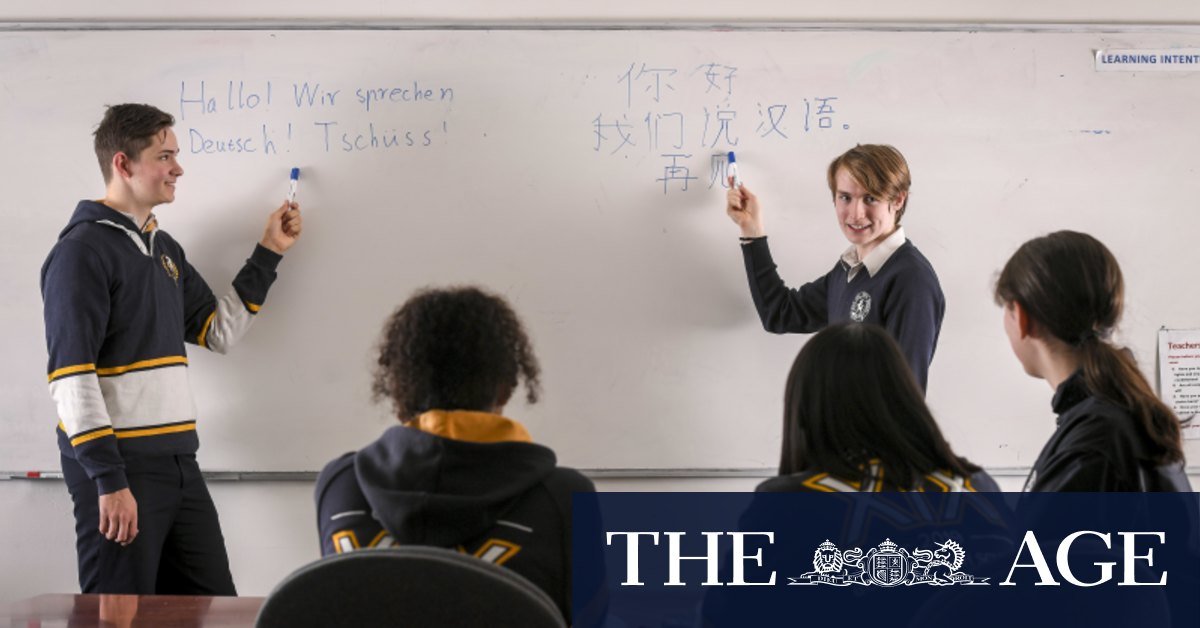 Mandarin emerges as the most popular language to learn in Victorian schools
[ad_1]
"Enrollment of students in language programs has increased dramatically at the primary level over the past six years, indicating that many schools are expanding their existing programs," the Ministry of Education report says.
Loading
"High school enrollment has remained relatively stable over the same period, with enrollment trending upwards in 2020."
The report only covers public schools, which educate about two-thirds of Victorian students, but it shows strong adoption of the language across all school districts.
Just over 18% of students graduating from a public high school completed a VCE language in 2020. The figure rises to 21.8% of graduates from public, Catholic and independent schools.
When it comes to retention, the report shows that high school students are the most likely to continue Chinese, French, German, Greek and Japanese until grade 12.
"By grade 7, Indonesian, French, Italian and Japanese were the most studied languages, but by grade 12 the proportional enrollments in Indonesian and Italian had declined dramatically," he said. declared. "This trend has been countered by a significant increase in proportional enrollment in Chinese, which is largely due to an increase in the number of students in Chinese first language programs at upper secondary level."
Michiko Weinmann of Deakin University pointed out the large differences in language contact times in primary schools, ranging from less than 30 minutes per week to full bilingual programs.
"This could raise questions about the coherence of the language teaching offer," she said.
Dr Slaughter said the lack of time was likely due to a lack of qualified teachers and some schools pretending to speak languages.
Loading
"Thirty minutes a week is not enough; the ministry recommends 150, "she said. "The average is 60, so you have a lot of disgruntled people going to elementary school and saying, 'I [only] know my numbers. "
Richmond West Elementary School is one of Victoria's bilingual public schools and operates a bilingual Chinese and a smaller Vietnamese program.
Principal Tip Kennedy said that the students in the Chinese program are "largely not steeped in history and speak their first word of Chinese when they arrive in preparation." The students in the Vietnamese program all have a Vietnamese cultural heritage.
In the Chinese program, the program is taught in the language half the week and in English the other half.
"Students easily transition between the two languages ​​in the classroom and in the yard," she said.
The Morning Edition newsletter is our guide to the most important and interesting stories, analysis and ideas of the day. register here.
[ad_2]